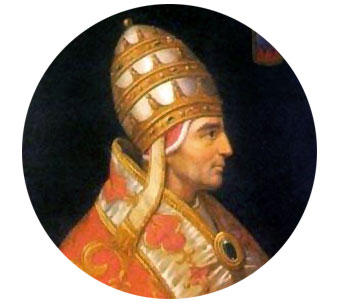 The remarkable Urbain V was born Guillaume de Grimoard Natif from Grisac, he will follow studies of right in Montpellier.
In the 14th century, good being in right ensured success.
Guillaume de Grimald takes the dress with the order of Saint Benoit in Saint Sauveur de Chirac, because the prior was his uncle.
He received the priesthood at Saint Victor de Marseilles. He teaches in Montpellier, Toulouse and Paris.
Then like abbot of Saint-Germain-d'Auxerre and very good papal legate, they sent him to fetch back the pontifical grounds that the tyrants of Milan had stolen of Jeanne of Sicily.
In 1361 the abbey of Victor Saint in Marseilles is in full 100 year-war. Everywhere where he passes, he rebuilds and restores.

Visiting the Cassin Mount, he receives the message to return in haste to Marseilles and then Avignon, where he is elected pope after initially refusing the responsibility with the words : "Whe are only ashes and dust"
Miracle following the nonciation, a dew of a bright whiteness was spread on all the city, one eats it, one venerates it, like his mother, she also was venerated like a saint.

During the 100 year- war, the sons of the crown of England disputed the crown of France.
The large companies of all nationalities arrived in France opulent.
Urbain V sent them out of France, as by example in Castille.

He will make also a project of crusade against the Turks, and take back Alexandria.
He sends many missions in Bosnia, in Lithuania, in Bulgaria and China.

If Urbain V, large manager of good order had been succeeded in the same spirit, there would not have been the reform.
Urbain V is founder of the university of Hungary, start to build the cathedral of Mende in 1368
In 1369, he brings back the saint seat to Rome after an argue with Charles V, who defended Avignon.
On the other hand, in Rome it was misery and the archbishops were afraid to suffer.
In Rome he's met with a kind reception.
He restores the universities: of right and medicine in Montpellier. and lodge and nourishes more than 1 000 students of all classes of whom he let selection the best. He provides them of books and the best professors. Even during war they were nourishd well.
He found the college of the 12 doctors (originating of Gévaudan).

In Toulouse, he saves the university of music and brings back the remainders of Saint Thomas d' Aquin.
He founds the college Saint Benoit in Montpellier which church becomes a cathedral. decorated with numerous works of art.
From 1363 to 1365, he rebuilds the Saint Victor of Marseilles.
In Avignon he enlarges the "palais du pape", around Rome he plants vine-yards.
He realised numerous great splendour-gardens ( with fountains), the fashion of the 14th century.
He's often represented, and constructs the fortifications in Florac, Mende etc.
He founds a college in Quézac and Bédouès, and a church and library in Ispagnac.
He dies in his bénédictin cloth . He is burried in Saint Victor de Marseille, then later displaced to his crypte in the cathedral of Mende. Armorial bearings identic at those of Quézac