Le Lauzas is surrounded by nature in the Parc National des Cévennes,
in between the Mont Lozère and Gorges du Tarn, in the South of France





Contact : Olivier et Miriame
Le Lauzas
48160 Saint Andéol de Clerguemort
France
Tél. 00 33 (0)6 07 23 32 89
e-mail: tounezi@gmail.com
website : causses-cevennes.com/le-lauzas

Around Mas du Lauzas there are 20 hectares at your disposal, with a river with swimming possibilities, a pine and sweet chestnut forest, an unlimited
playground, construction and liberty area for children. Numerous hiking tracks off le Lauzas permit to discover this still wild valley. The silence, and preserved nature surrounding the spot, creates propice conditions for ressourcing, calm and relaxing... Little history …
Le Lauzas is a former Cevennes farmhouse off the XVI century .
The "Mas" is built on a rock, dominating the Dourdon river.
An exceptional site of terraces around the house, where before were grown vineyards and chestnuts. Since 30 year we renovated this former farm , being impressed by it's history
while respecting the traditionnal know-how.

We repared the terraces to cultivate fruits and vegetables practising biological agriculture. We restored the dry stone built walls.
Reception :
We propose you cottages and guestrooms in little natural stonen houses
were the tranquillity of everyone is preserved.

In a shelter of vegetation, the guestrooms are open to outside... The ensemble of our lodgings can be rented for workshops, seminaries, or friend or family reunions...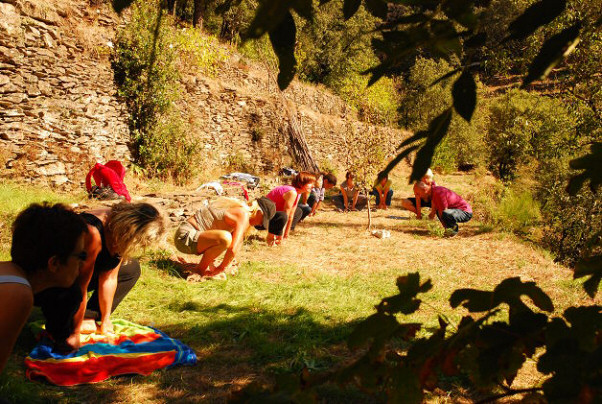 To discover in the region :

• Parc National des Cévennes,
UNESCO heritage since 2011
• Gorges du Tarn and Gorges de la Jonte
• Mont Lozère : ecomuseum, the village
Pont de Montvert …
• The Bondons site
• Le mont Aigoual
• Les Causses ….




Hiking :
The Régordane road, the Stevenson track, the menhirs path





Sportive activities : hiking, watersports, climbing, mountainbiking, rriding, canoeing, speleology, fishing… Tarifss 2014 :
Grand gîte 6 pers. : 550 euro
per week, High Season
Gîte 4 pers. : 400 euro per week, High Season
Chambre d'hôte for 2 persons
with breakfast : 70 euros
and 63 euros full board per adult
Group tarif : 20 euros/day/person

Contact :
Olivier et Miriame
Le Lauzas
48160 Saint Andéol de Clerguemort
France
Tél. 0033 (0)6 07 23 32 89
e-mail: tounezi@gmail.com
website : causses-cevennes.com/le-lauzas



Situation :

Le lauzas lies in the commune de Saint Andèol de Clerguemort
at 8km of Le Collet de Dèze at the RN 106



Acces on google maps



Coming off Alès :
Quit the National Road106, after leaving the village Le Collet de Dèze, take to the right, direction Saint Andeol de Clerguemort. Then follow 8 kilometers the signs "le lauzas" or "Saint Andeol de Clerguemort".By the national route RN 106 Mende - Nîmes
Railway - line Paris - Nîmes

Coming off Florac :
Quitter la national 106 avant le Collet de Dèze : juste after the Citroen garage , take to the left direction Saint Andeol de Clerguemort. Then follow 8 kilometers the signs "le lauzas" or "Saint Andeol de Clerguemort".



Par route RN 106 Mende-Nîmes
SNCF ligne Paris - Nîmes

Voluntairs
restoration patrimony :
Chantiers nature
---
© 1998 - 2016 causses-cevennes.com - Vacances dans le pays des Gorges, Causses et Cévennes