SPORTS AND LEISURE
On the programm : Hiking - swimming - cycle tourism and mountainbiking, - canoeing - climbing - spelology - canyoning- hanggliding - fishing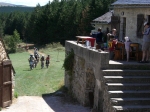 If you wish, we can advise you how and where to do this outdoor activities and how to prepare your stay, don't hesitate to contact us !
Hiking : No car needed, off the cottage you can immediately take numerous hiking tracks or biking tracks ( VTT), which leads you through the open nude spaces of the Causse, with orchidées and wild lavande sauvages, and more interesting Flora and Fauna




2 Grand Randonnées :
Le GR 60 and le " Tour du Causse Méjean " are passing nearby
http://causses-cevennes.com/ http://www.gr-infos.com

Swimming in le Tarn or la Jonte river makes childrens joy.
Activities


Hiking
The descent of the Gorges du Tarn by canoe is absolutely a must.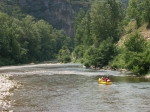 Le Causse Méjean, who has several hundreds of caves is a reknown place for speleology
for less sportive people a visit to the Aven Armand, is seriously recommended. www.aven-armand.com

The Gorges du Tarn and Gogres de la Jonte are very apreciated by climbers all over the world, there are numerous equiped climbing spots.
Google proposes several websites dealing "Jonte" and "escalade"

Gliding : Those who like to see the landscape from above can take flight courses and fly over the Gorges du Tarn or the viaduct of Millau. Close to La Champ, the gliding club : chanetvv.free.fr proposes flight courses for beginners and and advanced.
Fishing passionated will find different rivers of qualitiy around the Causse MEJEAN.

Vultures living in the rocks of the Gorges de la Jonte are circling around there on daytime.


DISCOVERY : architecture - Fauna & Flora
You will discover on your road ancient farms , cultural heritage with nartural stone architecture, vaulted with heavy slatestone roofs resisting to centuries...




Architecture calcaire
Te Millau viaduct is quit nearby. You also can visit it by airplane or hangglider off the airoclub of Chanet, situated at 3 km of La Champ.
The last PRZEWALSKI horses, prehistoric race, non domesticable, did find refuge on the Causse MEJEAN - picture
http://www.tourduvalat.org/
Each year Florac organises a endurance equestrian the 160 km de Florac, and other courses d'endurance permit to admire the mos beautiful endurance horses of Europe.
The Sheepbreeding farmers and the production place of the famous Roquefort cheese are nice to visit and a plaisure to taste.
The vulture has been reintroduced with success and counts several colonies living in the Gorges de la Jonte nowadays.

Flore du Causse